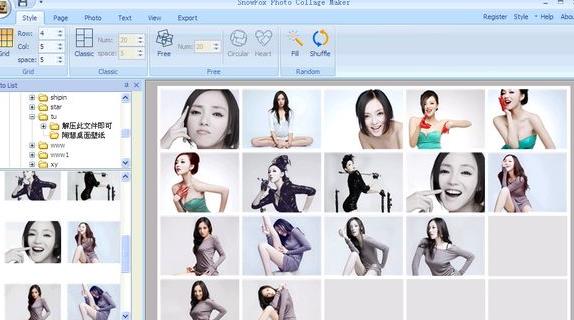 Some free alternatives, most of them with more templates and options.
* online initiatives
-- http://www.photovisi.com/collage/choose_template/wallpapers
About a hundred different templates for grouping pictures ranging from only a couple up to a dozen or more. You choose a template, load pictures from your computer and once the photos are loaded you can crop, resize, rotate and reposition them on the canvas. You can add background images and even text on your collage. The final collage can be downloaded as 1024x768 or 1600x12000 JPG image.
-- http://www.photocollage.net/
(Registration required)
-- http://www.picture2life.com/
(Registration required)
-- http://funny.pho.to/
Creating photo collages from your photos online. Create realistic photo montages and add cute frames to your photos. Also comes with many single-photo effects!
-- http://www.photocollageonline.com/
To top it off.. This one isn't that 'advanced' but gets the job done anyway : )
* Windows / Other
-- http://www.picturecollagesoftware.com/free/
Description: Over 2300 Collage Resources(Frames, Masks, Cliparts, Backgrounds). Includes 48+ templates for building collage. Share your collage through any medium, including desktop wallpaper, printed copies, email and more. (Pro version available too.)
-- http://www.effectmatrix.com/Free-Photo-Collage/index.htm
Choose from collage templates. Decorate your photo collage with frames, masks, text and cliparts. Use image effects to make your photos look like faded on the edges, old-fashioned, etc.
-- http://download.cnet.com/Photo-Collage-Creator/3000-2192_4-10802594.html (30 day TRIAL)
If you only want to do this once.. This is a good one too!
-- http://picasa.google.com/
Yes, Picasa can do this too :)
-- http://www.photoscape.org/ps/main/index.php
You can then resize the pictures, move them to show a specific area through the frame and add countless different frames for style. All pictures appear with a white border and there is no way to get rid of them, unfortunately. There are more than one hundred templates on offer. **
-- http://www.enricoros.com/opensource/fotowall/
Fotowall is an open source software that lets you make collages and word clouds. There are no templates or grid layouts to choose from. You add photos to the canvas and arrange their position by hand, individually. But it does have a cool feature called "Force field". When turned on, pictures arrange themselves as if they are acted upon by forces of attraction and repulsion. This tends to produce better results. You can freeze the photos while they are in motion by turning of "Force field". **
** SOURCE: http://www.instantfundas.com/2011/12/5-free-photo-collage-making-software.html, including comparisson table.
Peace!
devnullius
The Oxygen XML Editor (styled ) is a multi-platform XML editor, XSLT / XQuery debugger and profiler with Unicode support. It is a Java application, so it can run in Windows, Mac OS X, and Linux. It also has a version that can run as an Eclipse plugin. OXygen XML Editor and XSLT Debugger 20.1 free download. OXygen XML Editor and XSLT Debugger Download. Oxygen is a cross platform XML Editor and Debugger with support for XSD, DTD. Java software allows you to run applications called 'applets' that are written in the Java. Oxygen now includes a very handy tool for generating Java classes from an XML Schema (XSD) file. The Generate Java classes from XSD action is found in the Tools menu and it will generate the Java class files inside a new package located in a specified output folder. Oxygen XML Editor. The Premier All-In-One XML Editing Suite. May 20, 2002 Version 1.1 - May 15, 2002 Version 1.0 - April 15, 2002. It allows you to customize the menu shown when right-clicking the editor tabs from both the main editing area and the DITA Maps Manager. Get Encoding of the Current Editor. Side view in Oxygen XML Editor which shows all outgoing references (image references, links, content references) for the current opened DITA topic oxygen-standalone-plugin Java Apache-2.0 0 0 4 0 Updated May 1. Oxygen xml editor 20 1 – java xml editor pdf.
Mac Snowfox Photo Collage Maker free download - Photo Collage Maker, Photo Grid:Photo Collage Maker, Photo Collage, and many more programs. SnowFox Software provides professional Video Converter, iPad/iPhone/iPod Converter, Photo Collage Maker, Greeting Card Maker for both Windows and Mac. To sum it up, SnowFox Photo Collage Maker is a straightforward image management application you can use to build an appealing collage for pictures you. SnowFox Photo Collage Maker for Mac is a professional yet easy to use Mac photo collage maker software. With this photo collage maker software, just a few mouse clicks you can make a cool and awesome picture collages in less than a minute. Maybe some online photo collage maker for Mac has lots of.
Snowfox Photo Collage Maker For Mac Download
Snowfox Photo Collage Maker For Mac Background

Save Cancel

Snowfox Photo Collage Maker For Mac
Snowfox Photo Collage Maker For Mac Desktop
devnullius
–
8 years ago
–
Βρήκατε αυτό το σχόλιο χρήσιμο?

ναιόχι

(+96)